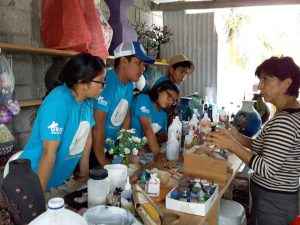 GECO trip to Isabela island
Thanks to Sculpt the Future Foundation's support, we are able to extend the reach of GECO's campaign to Isabela island, Galapagos. In October, the first trip to Isabela was conducted, with four GECO members travelling to San Cristobal to participate in a cultural exchange with a local group on Isabela called Manos Reciclando (translates to 'Recycling Hands'). 
GECO members stayed for three and a half days and shared experiences and knowledge on responsible consumption of single-use plastics and reusing waste materials, as well as the campaign activities they conduct on San Cristobal to promote responsible plastic use. Manos Reciclando also shared the activities they do to encourage more families to engage with this issue and conducted a workshop with GECO members to show how they're using creative methods to find other uses for plastic waste.
The trip was a great success. Together, both groups also visited Radio Isabela to communicate the activities that were carried out to the community and to encourage more Galapagueños to reduce their plastic consumption.
Another trip to Isabela has been planned for March 2019, and we look forward to sharing updates from this trip in due course.
All images © GECO