Waimea Ocean Film Festival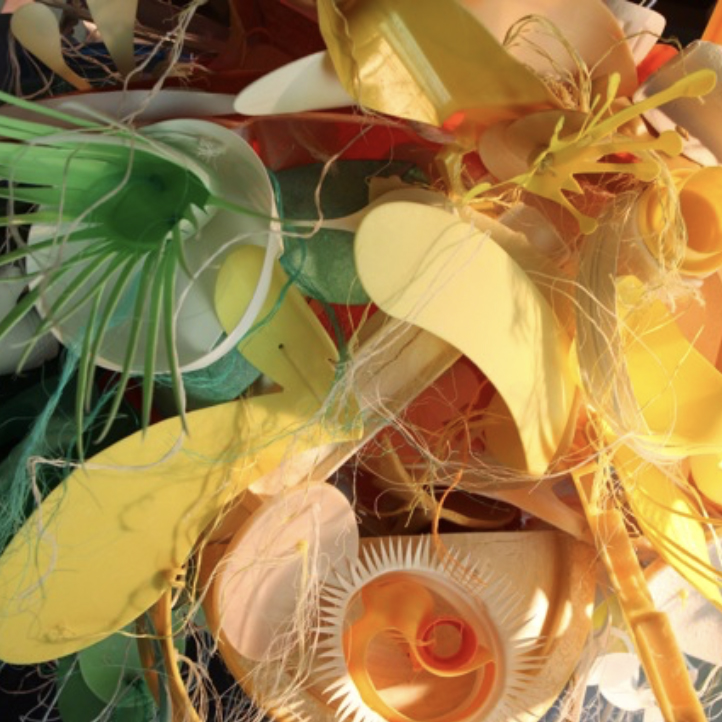 Creativity for Change
This film Festival was founded in 2009 in Hawaii and its focus is on ocean-related films in the categories of Ocean Experience, Ocean Environment, and Island Culture, as well as films that explore the forum topic of the year or topics relating to how what is done on land affects the sea.
A grant was made to enable Aurora Robson to make sculpture from the debris washed up at Kamilo Beach, Hawaii. Local schools provided the debris from the beach and helped to prepare it, with the sculptor, for use in the work.
ABOUT KAMILO: In making this piece, I used no hardware, no paint, no adhesives, only 100% plastic marine debris. The material was collected by the Hawaii Wildlife Fund during a bi-monthly coastal clean up on the Big Island. Plastic debris from all over the world washes ashore on the Southern tip of the Big Island. For the past 8 years, about 2 tons of plastic have been collected at each bi-monthly clean ups. Kamilo was created during a one month studio residency at the Parker School in Waimea, Hawaii. Sponsored by the Waimea Ocean Film Festival and the Sculpt the Future Foundation. Students at the school volunteered their time to assist in the creation of this piece. Kamilo has been exhibited at the Waimea Ocean Film Festival, Mass MoCA and will be at the Franklin Park Conservatory and Botanical Gardens for exhibition there this fall. All proceeds from the sale of this piece will go to help clean up our oceans and shorelines and to raise awareness about plastic pollution in our oceans.

Aurora Robson

The sculpture is currently for sale – contact the Foundation Administrator for details at:
info@sculptthefuturefoundation.org
For more details please visit:
waimeaoceanfilm.org / aurorarobson.com/sculpture_kamilo
Note: the Foundation acknowledges its gratitude to IWC Schaffhausen for funding the Plastiki Pod initiatives.