Urban Rivers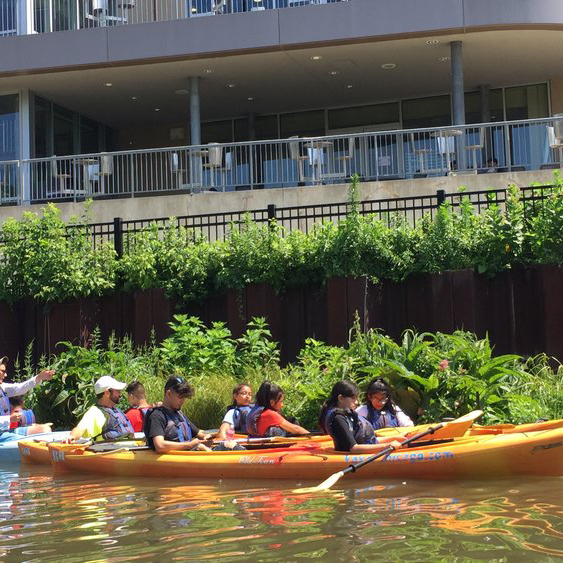 Founded in 2013, this is a Chicago-based nonprofit working to improve the water quality of urban waterways and increase the natural habitat within their banks by turning urban riverways into urban sanctuaries.  Working in partnership with the City of Chicago's Department of Planning and Development, community groups, large corporations, and local businesses the organisation has ensured thoughtful planning and acceptance of its flagship project 'the Wild Mile' as a long-term and cherished asset.
The Wild Mile will be the first-ever floating eco-park of its scale in the world comprising a mile-long floating park located on the North Branch Canal of the Chicago River, a manmade channel along the east side of Goose Island between Chicago Ave and North Ave.  The project will create a robust ecosystem, as well as an enjoyable place for humans by creating floating gardens to reclaim this wasted space for plants and wildlife.  Through the project the organisation will:
create a community-operated floating trash bot
run education programmes
lead community tours
organise cleanups
establish a wide variety of artificial habitat installations
The design for Wild Mile brings an ecosystem into the river by adding an artificial shoreline, shallow water, and more textured vegetation to help attract pumpkinseed fish, catfish, frogs, butterflies, herons, and purple martins.  Possibly, otters too, which, have been spotted in the river.  The completed park will consist of floating gardens and forests with public walkways and kayak docks in the Chicago River.
The Wild Mile will function as a public park, open-air museum, botanical garden, kayaker destination, classroom for the community, and provide habitat for native wildlife.  The eco-park is a perfect opportunity for an outdoor classroom and the project will connect with nearby students and show them what's in their city with volunteer and stewardship opportunities.
Urban Rivers has partnered with the Shedd Aquarium to do kayak tours teaching people about the river ecology, native plants, and how wildlife can thrive and a small grant has been awarded under the Innovation for Change category, towards the cost of providing three field trips for 105 children (35 children per trip).  The children will come from Chicago Public schools and participate in building and monitoring the success of the floating habitat installations.  Urban Rivers has developed STEM programming tailored to the students of students from low-income families with the aim of encouraging these students to see problems in their communities as solvable through STEM applications and creativity in order to build their skills and confidence in these areas and help foster their creativity for environmental problems solving into the future.
Urban Rivers plans that these field trips will take place in Spring/Summer 2021 – later if Covid 19 prevents.