The Lost Explorer Mezcal Fund (TLEM) 2022 Projects – SiKanda
In 2022, The Lost Explorer Mezcal renewed its funding for the Voice for Nature Foundation, specifically for community based projects in the region of Oaxaca, Mexico.
Continuation funding was granted to the three projects supported in 2021: SiKanda, Isla Urbana and the Master Noel Artisan Centre.
Solidaridad Internacional Kanda, A. C. (SiKanda) – seed funding was granted to train 28 women (aged approx. 25-55) strengthening the businesses and support networks of women living in the easternmost part of the Villa de Zaachila Municipality, in Oaxaca, México, in the area surrounding the largest landfill in the state.  Granted in two rounds – in Sept/Oct 2022 and Oct/Dec 2022.  Businesses supported included a bakery, prepared food sales, two clothing repair shops, traditional textiles and handcrafts from the Tlahuitoltepec and the Istmo region, a gift shop and a shoe store.  An option for collectives to apply was added in 2022 and the Leobaa Collective was supported, selling handcrafts and natural products for personal care.
In addition, the project provided additional training for the women participants to strengthen basic skills, including operating an email account, navigating the internet, using cellphones for business, how to navigate simple government procedures online, such as accessing their birth certificate or ID number).
The evaluation of the training emphasised the importance of childcare provision during the sessions, which allowed the women to participate fully.  Another very valuable outcome was learning how to price their products, taking into account full costs, including their time.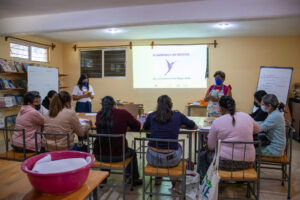 For more information:  see website