Atelier Aquatic CIC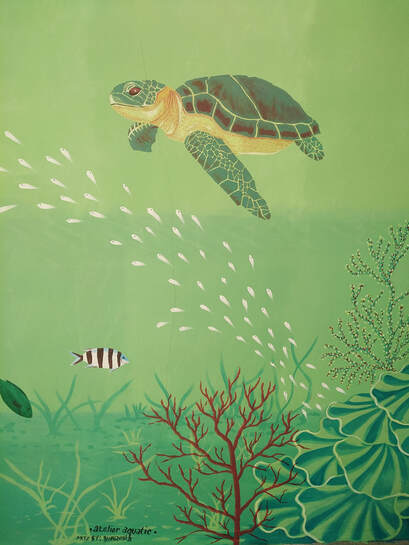 This CIC's aim is to use creative solutions to engage communities in education and marine conservation. The organisation uses art to communicate science, to create emotional connections to conservation issues as art transcends language and cultural boundaries.
The organisation has been provided with a grant towards its 'Art on Barton' turtle-inspired marine murals – using public art to communicate science and conservation.  The project is the combination of art professionals creating public murals and participatory educational workshops and marine mural painting sessions run by art education/conservation professionals.  There will be 4 artists from the UK and 4 from Puerto Princesa, the capital of Palawan, who are committed to turtle conservation.
The project takes place at Port Barton Marine Park, Palawan, Philippines – a 10,000-hectare area that is home to three of the world's seven species of endangered sea turtle – the Hawksbill Turtle, Green Turtle, and Olive Ridley Turtle.  Sea Turtles are the main attraction within the marine tourism industry supporting local livelihoods.
The event will comprise sea turtle information, education and communication, and workshop sessions for the local community to support marine life education and encourage marine conservation. The workshops will target local schoolchildren, boatmen association, resort owners association, and local government.
The project is in partnership with WWF Philippines, Be Green (a local sustainable tourism NGO), Department for Environment and Natural Resources (DENR) with which Atelier Aquatic has close relationships.
This video illustrates the fantastic work of the project supported.