Bottle Schools – Trash for Education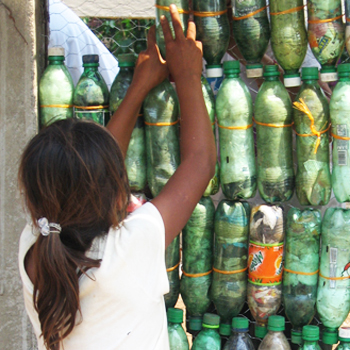 Co-founded in 2009 by Zach Balle, Heenal Rajani, and Joshua Talmon, Hug It Forward is a grassroots organization that helps to empower communities in Guatemala to build "bottle schools". These are schools built using "eco-bricks": plastic bottles stuffed with inorganic trash. Entire communities come together to build a more sustainable educational infrastructure for their future. Bottle school projects are community-led, and community members volunteer all unskilled labour needed for the construction.  Since October 2009 communities in Guatemala have completed 28 successful bottle school projects, at an average cost of $6,500 per classroom. In May 2012 the charity completed its first project outside Guatemala, in El Salvador.
Before Hug It Forward issues any funding for materials, many community meetings take place, the community completes an application process, and the community has to collect at least half of the 6,500 plastic bottles required for their new bottle school, and stuff them with inorganic trash from their immediate environment. The local municipality pays for the two skilled masons needed to build the school, and the Ministry of Education pays for all teachers, ensuring that these institutions also have ownership in the project.
Hug It Forward strives to raise awareness in developing countries and in developed countries around trash, consumption, and the power of community. This awareness is equally important to the charity as facilitating the construction of bottle schools in developing countries.
A Sculpt the Future Foundation donation has been made towards the environmental education programme undertaken with the children and young people of the communities participating in bottle school projects in Guatemala. Children provide a large majority of the unskilled workforce in the collection of the inorganic trash and creating "eco-bricks" so these children build their school with their own hands, giving them real ownership and pride in the realization of the project. It is through this process that the children learn to understand the difference between organic and inorganic trash, along with the major risks of plastic in their environment and in the world. The charity's intention is to leave a lasting impact of the bottle school, helping to create and ensure awareness for future generations to come in these communities.
In addition, these lessons and conversations open the door for discussions around other major environmental issues facing communities across Guatemala and the world, such as deforestation, mining, and pollution of air and waterways.
Our vision is of communities free of piles of inorganic trash on the roadsides, countryside, in waterways, and burnt for cooking.
Hug It Forward concurs with Sculpt the Future Foundation about the power of youth to change the world. Environmental issues provide a pathway to expose young people to questions around social justice, as well as a means to unite young people across communities in their own backyards and in other countries.