5000 Mile Project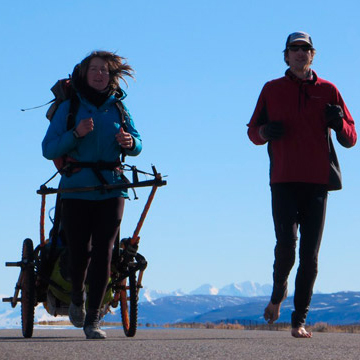 The 5000 Mile Project – Running for Wildlife
Katharine and David Lowrie's adventure is to run the length of South America (5000+ miles), unsupported, each pulling a convertible trailer for camping, communications, science, food, and water.  A small grant to enable them to communicate to the world whilst undertaking their adventure.
Kath is a former Ecologist for the RSPB and David a former Management Consultant for Accenture.  They now live on a converted fishing boat in Uruguay, having left the UK to seek adventure, to work in international conservation, and to live with minimal impact on the environment.  In 2009 they began the first-ever complete seabird surveys of the Eastern Caribbean, acclaimed by Birdlife International as 'the most comprehensive, scientifically robust and coordinated survey of Lesser Antillean seabirds ever attempted'.
Raise money for BirdLife International and Conservacion Patagonica to buy and conserve threatened habitats in South America, ensuring their protection through local governance and employment – the target is £50,000;
Connect people from around the world to the communities and wildlife met along the way, via the 5000mileproject interactive website and on-the-road communications and examine how, through our actions, we are connected.  Specific activities are: 'Big Toe' online classroom and 'Mega Transect' and 'Hello Series' working with South American conservationists;
Inspire environmental action; to prove that with small steps we can tackle seemingly insurmountable challenges; it's not too late to protect the world's remaining unspoiled ecosystems, but time is running out.
The project began in Carupano, Venezuela on 27 July 2012 (when the Olympics start in London) and will complete on 27 July 2013 in Cabo Froward, Chile.
For more information please visit here.